MV51 sembra un vero campione? Beh, lo è. Audio imbattibile, in un corpo interamente metallico: un microfono che è una scelta obbligata. No alla distorsione, eccellenza dell'audio in ogni ambiente, dalle sessioni dimostrative alle registrazioni all'aperto. Tocca i semplici comandi sul pannello frontale e ti basta l'intuitiva app per ottenere i migliori take, ovunque.
Caratteristiche principali
MV51 Caratteristiche e vantaggi
Certificato Apple MFi ( Made for iPhone / iPod / iPad ). Per device dotati di porta USB-C è necessario utilizzare l'adattatore AMV-USBC15.
Compatibile con i dispositivi Android che supportano connettività USB Audio Class 2.0 e Micro-B OTG ( On-The- Go ). Non tutti i dispositivi Android sono compatibili.
5 Modalità DSP (Parlato, Canto, Flat, Strumenti Acustici, Loud) : Regola automaticamente Gain, EQ , compressione e limiting per ottenere risultati ottimali.
Controlli su touch panel frontale per la selezione della modalità, del volume delle cuffie, del guadagno del microfono, e del mute
Uscita cuffie integrata per il monitoraggio in tempo reale
Il diaframma da 25mm fornisce l'audio migliore della categoria
Il cavalletto posteriore integrato offre un posizionamento ottimale su qualsiasi scrivania
Include supporto con filettatura standard da 5/8" per il montaggio su qualsiasi asta microfonica
Include (1) cavo MicroB-a-USB e (1) cavo Micro-B a Lightning®
Design di ispirazione vintage interamente in metallo
Where can the MOTIV MV51 be used?
The MOTIV MV51 condenser microphone captures high fidelity audio within your home studio. It is an obvious choice for vlogging, videoconferencing and podcasting.
This mic integrates seamlessly with Mac, PC, Lightning Connector enabled iOS and major Android devices (contact our expert team for full Android compatibility info) to deliver high quality audio wherever you need it most. This condenser microphone features a built in 3.5 mm headphone output for real time audio monitoring, and can be mounted to any standard 15.9 mm thread microphone stand.
How does it maintain consistently high sound quality across different environments?
The MOTIV MV51's large 25.4 mm capsule element accurately reproduces the sound source, while customisable audio settings allow it to excel across various environments.
The MOTIV MV51 offers five DSP preset modes – speech, singing, flat, acoustic instrument and loud. The built in touch panel also provides control for gain, mute, and headphone volume.
When used with the iOS ShurePlus MOTIV app, the MOTIV MV51 offers even greater acoustic flexibility. You can individually adjust the limiter, compressor and five band EQ to create a unique audio experience.
Which devices is the MOTIV MV51 compatible with?
The MOTIV MV51 digital microphone is compatible with PC, Mac, iOS devices with Lightning Connector, as well as most Android devices. It is plug and play, so can be used with audio software of your choice, to record in any audio format and digital quality.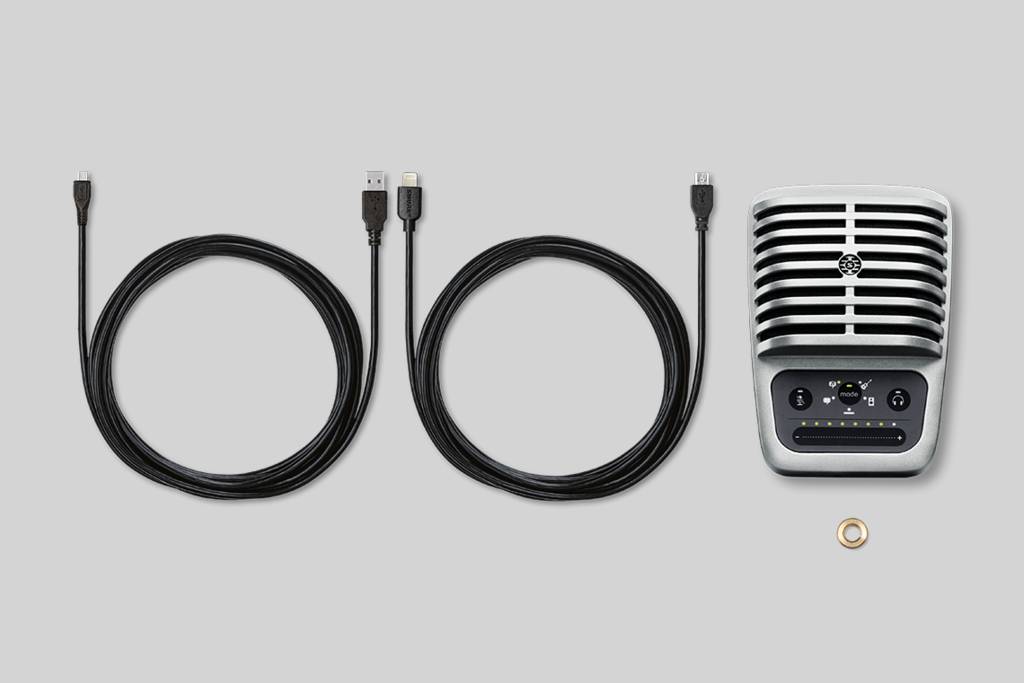 | Numero | Part Title |
| --- | --- |
| 1 | 1m USB-to-MicroUSB Cable |
| 1 | 1m Lightning-to-MicroUSB Cable |
| 1 | 1m USB-C-to-MicroUSB Cable |
Altezza x Larghezza x Profondità:
128.0 × 86.0 × 70.0 mm
Risposta in frequenza:
20 Hz – 20 kHz
Risposta in frequenza:
Aggiustabile
Pressione sonora:
130 dB(A)
Tipo di trasduttore:
Condensatore
Diagramma polare:
Cardioide
Interruttore per low cut:
No
Capsula intercambiabile:
No
Funzionalità principali:
Registrazione
Richiede Phantom Power:
Bus powered via USB/LTG VDC
Curva di risposta in frequenza:

Ulteriori specifiche tecniche
Altre specifiche:
DSP Modes (Presets): Speech/Singing/Acoustic/Loud/Fla
A/D Converter: Up to 24-bit/48 kHz
Adjustable Gain Range: 0 to +36 dB
Power Requirements: Powered through USB or Lightning connector
{:other=>"Altri download", :architect_specification=>"Specifiche architettoniche", :best_practice=>"Guida Best Practice", :bim=>"BIM", :block_diagram=>"Schema a blocchi", :command_string=>"Stringhe di comando ", :declarations_of_conformity=>"Dichiarazione di conformità", :exploded_view=>"Vista esplosa", :frequency_compatibility_chart=>"Tabella di Compatibilità di Frequenza", :image=>"Immagini", :insert_sheet=>"Inserisci Scheda", :material_safety_data_sheet=>"Scheda di sicurezza", :overview=>"Scheda di Overview", :portprotocol=>"Port Protocol", :quick_start_guide=>"Guida rapida", :safety_information=>"Informazioni di sicurezza", :serial_string_protocol=>"Protocollo Seriale", :signal_flow_diagram=>"Diagramma del flusso del segnale", :spec_sheet=>"Specifiche tecniche", :system_diagram=>"Diagramma di Sistema", :system_requirement=>"Requisiti di sistema", :user_guide=>"Manuali", :wifi_guideline=>"WiFi Guideline"}